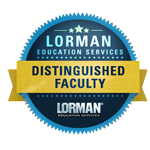 As a Distinguished Faculty Member for Lorman Education Services, Dennis Wilenchik often speaks on a variety of legal topics. On November 8, 2019, Dennis Wilenchik gave a 90-minute seminar on Professional Etiquette for the Courtroom and Other Legal Situations .
It is still available in an On-Demand Webinar and qualifies for 1.5 hours of CLE Credit, .75 hours of which is Ethics credit. In this seminar, he focused on the Model Rules of Professional Conduct and attorneys' interactions with their clients, opposing counsel, judges, judges' staff, juries, the public and the people with whom the attorney works.
Within the last year, he also has conducted the following Continuing Legal Education Courses for Lorman:
* Federal Rules of Civil Procedure Update: Understand New Rules, Standards, and Disclosure Requirements (1.5 CLE hours)
* Paralegal's Role at Trial (1.5 NALA hours)
* Admissibility of Internet and Email Evidence (1.5 CLE Hours).
If you are interested in learning more about the Continuing Legal Education Seminars by Mr. Wilenchik, please visit Here.