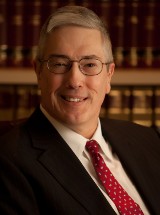 T: (602) 606-2810
F: (602) 606-2811
Tel@wb-law.com
VCard
Thomas E. Lordan practices primarily in the areas of commercial and real estate litigation and transactions. He has practiced law for over twenty-five years, both with law firms and in-house, in Ohio, Arizona, Maryland and Washington, D.C. He is admitted to practice in Arizona, Ohio, Maryland, and the District of Columbia.
Mr. Lordan is a graduate of the University of Notre Dame, receiving his Bachelor of Arts Degree with a major in Philosophy in 1971. He graduated from the University of Notre Dame Law School in 1974. He was a member of the Notre Dame London Center for legal studies in London, England during the 1972-1973 academic year.
In 1996, Mr. Lordan received a Master of Arts degree in Political Philosophy from the Catholic University of America in Washington, D.C., and is a candidate for the Ph.D. degree in that field, having completed all but his dissertation.
Mr. Lordan is currently one of three Senior Associates at Wilenchik & Bartness. In that role, he is responsible for supervising and mentoring two junior associates and directing their activities and reviewing their work product.