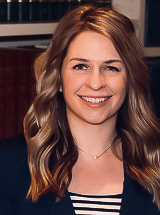 T: (602) 606-2810
F: (602) 606-2811
RebeccaS@wb-law.com

Rebecca E. Stanton practices general civil law with an emphasis on commercial litigation. Prior to joining Wilenchik & Bartness, Ms. Stanton worked at Quintairos, Prieto, Wood and Boyer practicing primarily medical malpractice defense. She also has experience representing professionals in malpractice and review board matters, and in criminal defense.
Ms. Stanton received her J.D. from University of Arizona James E. Rogers College of Law in 2014, graduating magna cum laude. She is licensed to practice in both Arizona and California. She also has a Bachelor of Science degree in Mathematics from Arizona State University.
Ms. Stanton enjoys traveling, yoga, hiking, and gardening, and is an avid gem and mineral collector.