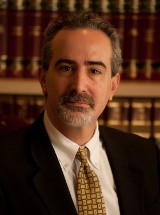 T: (602) 606-2810
F: (602) 606-2811
LarryF@wb-law.com
VCard
Lawrence J. Felder practices primarily in the areas of civil litigation and commercial law. He has practiced for thirteen years with firms in Massachusetts, Rhode Island, and Arizona. He has been admitted to practice in each of those states, most recently to the Arizona Bar in December of 1999. He has significant experience in personal injury, workers compensation, commercial franchising, and general
corporate law.
Mr. Felder attended Stanford University, receiving his Bachelor of Arts Degree in 1982. He received his Juris Doctorate degree, cum laude, in 1988 from the Sandra Day O'Connor College of Law, where he served as a member of the Law Review.
Mr. Felder has been a member of the American Bar Association, Torts and Insurance Practice Section, and International Practice Section – Committee on Law in the Newly Independent States of the Former Soviet Union.
Mr. Felder is conversant in French and Russian.
Mr. Felder is currently one of three Senior Associates at Wilenchik & Bartness. In that role, he is responsible for supervising and mentoring three junior associates and directing their activities and reviewing their work product.