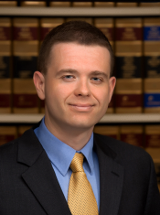 T: (602) 606-2810
F: (602) 606-2811
jackw@wb-law.com
VCard
John "Jack" Wilenchik is a litigation and trial lawyer who handles cases in various areas including business and employment law, civil rights, lawsuits defending or against law enforcement, victim's rights matters, and tax audits/deficiencies. Mr. Wilenchik is licensed and has practiced in Arizona state and federal court, the Ninth and Tenth Circuit Court of Appeals, the United States Supreme Court, and United States Tax Court. In 2018, he was named to the national Superlawyers list of "Top Rated Attorneys" by Thomson Reuters. Some of his more notable cases include:
Mr. Wilenchik is committed to charity and pro bono work, both in his personal and professional life. He has served as a volunteer attorney for the National Association for the Advancement of Colored People, as well as an affiliate attorney of the Rutherford Institute and a liaison and special advisor to the Maricopa County Community Legal Services Volunteer Lawyers Program. Mr. Wilenchik has served as a regular volunteer with the Wills for Heroes program, which prepares wills for law enforcement and first responders. Less than one week after taking the bar exam, Mr. Wilenchik donated a kidney to his mother, Becky Bartness. He has taken on various cases and causes over the years on a pro bono basis, including one that went up to the United States Supreme Court. In 2017, Mr. Wilenchik authored a bill to protect child victims that was co-sponsored by United States Senators Jeff Flake (R-AZ) and Dianne Feinstein (D-CA).
Mr. Wilenchik is active in politics and has assisted with several local elections. He has hosted and co-produced several radio shows, including the "Legal-ease" and "Ripoff Report" radio shows on KFNX 1100 AM. Mr. Wilenchik is conversant in Spanish, and his wife (who was born and raised in Guanajuato, MX) also assists as a Spanish interpreter. Mr. Wilenchik studied Italian, Mandarin Chinese, and Hebrew at New York University and lived for two years abroad (in Italy and Scotland, UK). He is the son of firm partners Dennis Wilenchik and Becky Bartness.