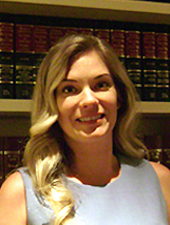 T: (602) 606-2810
F: (602) 606-2811
AnngelicaD@wb-law.com

Ms. Davis is a litigator who is licensed to practice in Arizona state court.
Ms. Davis completed her Bachelor of Arts in Communication at Arizona State University in 2002.  Following that, in 2007, Ms. Davis earned her Master of Education from Northern Arizona University.  She received her Juris Doctor from Arizona State University in 2015.  While earning her Juris Doctor, Ms. Davis completed an internship with the American Civil Liberties Union of Arizona and also served as a certified limited practice student during her externship with the Maricopa County Public Defender's Office.  Ms. Davis also completed writing courses in New York City through the French Culinary Institute, Gotham Writers, and Media Bistro.
Ms. Davis has been a long-time volunteer for the McKenna Youth Foundation, has served as a volunteer at the Andre House, and has offered pro bono service through the Homeless Legal Assistance Project.  In her free time she enjoys spending time with her son, attending performing arts events, and studying ikebana.